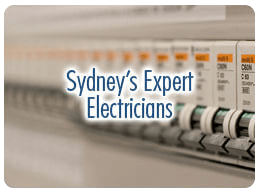 Discover how Omega Electrical can help you today: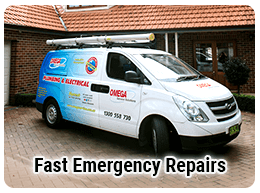 SWITCHBOARD PANEL REPAIRSThe switchboard panel box, containing your property's circuit breakers and fuses (and often meter), is a critical component in distributing electricity safely around your home. If you're experiencing problems with your power, Omega's electrician professionals can help. From intermittent power and lighting to unusual sounds or smells from the switchboard panel, Omega Electrical can help with an emergency repair today.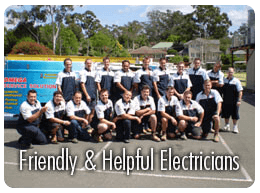 SWITCHBOARD PANEL UPGRADES AND NEW INSTALLATIONS There are three main reasons to upgrade your home's old panel to the latest in switchboard panel technology. Most important is safety - older panels are not designed for modern power usages and were designed in an age before computers, large screen TVs and split system air conditioners in most homes. Not only that but older systems have often degraded with age as well. The safety issue is critical - overloaded circuits can be both a fire and an electrocution hazard. Upgrading to a modern switchboard can help protect your home from fire, and add additional safety protection not present on older panels. Other reasons to upgrade a switchboard panel include adding more capacity to the home's supply, and improving the stability of service (the avoidance of poor performance issues).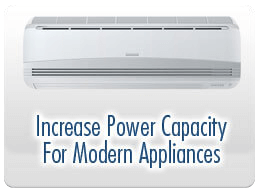 CAPACITY UPGRADES If you've just renovated your home or business, or have added a new high capacity electrical appliance such as an air conditioning unit or oven, then often it is necessary to upgrade the power capacity of a circuit (including from single to three phase), or the capacity of the entire distribution panel, to meet the increased power needs.

ELECTRICAL REWIRING As with your switchboard, older or faulty wiring can present a range of fire risks, electrocution issues, and quality of service problems in your home or business. Again, the wiring in older property's was never designed for modern needs, nor would it meet today's stringent safety and quality standards for modern wiring. Omega Electrical can help bring your property's wiring up to modern standards to meet your capacity needs and reduce the risks of fire or serious injury.

FUSE TO CIRCUIT BREAKER UPGRADES If your home had older ceramic fuses, you may wish to consider upgrading to modern circuit breakers. Not only are circuit breakers easier and safer to work with (simply a matter of flicking a switch rather than replacing a wire), but they are the modern choice for greater reliability and safety in residential and light commercial circuits.

ENERGY USAGE MONITORS With increased awareness of energy usage and the environment, and in a time of rapidly rising electricity bills, installing an electrical usage monitor to your supply can show you where most of the usage is occurring, giving you helpful information to assist with reducing your bill.

GROUND FAULT CIRCUIT INTERRUPTERS These can help improve the safety of your property's electrical system by detecting common causes of electrocution.

ELECTRICAL SAFETY INSPECTIONS Omega Electrical can assist with a professional safety inspection, or with advice and repairs to bring your home up to current building code standards. These can be particularly important if you've recently moved into a property and are unaware of the safety history of the building, or if you are selling a property and are already aware of problems that may arise during the sales process.

EXPERT ELECTRICIANS Omega Electrical is fully licensed and insured for all your electrical needs. Our expert electricians are already the trusted choice in tens of thousands of homes and businesses across Sydney.

UP-FRONT PER JOB PRICING With Omega there's never a surprise or an hourly rate - you'll know the full price up-front, regardless of how long the job takes us to complete, for your complete peace of mind.

SATISFACTION GUARANTEED SERVICE Omega Electrical are committed to providing Sydney's best service, from clean-cut and polite electricians, to our on-time guarantee, to laying down work area mats and wearing shoe protectors - with Omega you can be sure of a level of service which is second-to-none.

For all your switchboard panel and rewiring electrical needs across Sydney, call and speak with the professionals from Omega Electrical today.
SWITCHBOARD PANEL SYDNEY | REPAIR SWITCHBOARD PANEL SYDNEY | SYDNEY SWITCHBOARD PANELS | REPLACE SWITCHBOARD PANEL SYDNEY | ELECTRICAL BOX SYDNEY | ELECTRICIAN CIRCUIT BREAKER SYDNEY | ELECTRICIAN FUSE BOX SYDNEY | REWIRE HOUSE SYDNEY | REWIRING ELECTRICIAN SYDNEY | ELECTRICAL METER BOX SYDNEY | GROUND FAULT CIRCUIT INTERRUPTER SYDNEY | ONE TO THREE PHASE POWER SYDNEY | POWER CAPACITY UPGRADE SYDNEY | INSTALL EXTRA POWER SYDNEY | NO POWER SYDNEY | STRANGE SMELL BOX SYDNEY | FLICKERING LIGHTS SYDNEY | REPAIR ELECTRICS SYDNEY